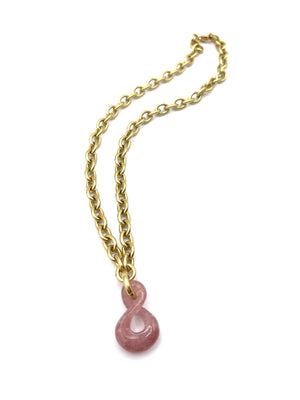 Strawberry Quartz Infinity Armour
Sale price Price $70.68 Regular price $70.68 Unit price / per
 Strawberry Quartz Infinity Armour is crafted through the presence of Hematite and Mica, which impart a striking pink hue and subtle sparkle. This unique gemstone can serve as a powerful reminder of the boundless connections between physical and metaphysical realms.
Just as the benefits from the Mica mineral Lepidolite, this quartz invites a sense of ease and serenity during life's challenging moments, while lending strength to pass through dense energies. Combining Strawberry Quartz and Lepidolite is a tag team of support.
This Armour comes on a small Oval  link brass chain, coated to minimize oxidization. Over time, the use of a sterling silver polishing cloth would aid in reviving the bright luster of this beautiful chain. The height of the pendants vary between 1.25 inches.